Buy Liverpool FC Tickets

Liverpool FC tickets are available on sale.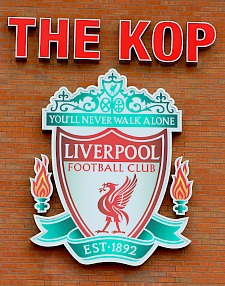 Here is upcoming LFC match schedule (fixtures) as below:
Note: Price for the LFC football match tickets is shown in either GBP or EURO.  
There are no hidden booking fees, no service charges and no other fees but the shipping charge which is sometimes free when self collection is available.
Latest Liverpool FC News

The Guide to Liverpool FC Tickets

Liverpool FC (LFC) is the most decorated team with 18 English Premier League titles and 5 European Cups (UEFA Champions League) in the history of British football, only the professional football club who currently retained an English football record with total five UEFA European Cup Championship crowns as of the end of 2007-08 season.
Founded in 1892, the nickname of Liverpool football club, is called "The Reds", their home venue is Anfield Road, and their famous song is called "You'll Never Walk Alone".
The 2005 UEFA Champions League Final between Liverpool FC and AC Milan was considered one of the most thrilling comebacks we ever watched. The Reds had been 3 goals down at the halftime break, it looked that Final match was over for the Reds, but it wasn't finished yet, the Reds came back strongly to score 3 goals within first 19 minute of second half to tie the match, continued to tie until the overtime match had been ended, the Reds and AC Milan went on to take penalty shootout after scoreless overtime, the shocking result was the Reds incredibly recorded 5th UEFA Champions League title!
The Reds currently have a strong squad of world-class footballer like S. Gerrard, and other talented teammates. They are looking to win their first Premier League crown since the 1989-90 season is excellent. Liverpool Anfield tickets should be definitely worth the money you spend!

Tickets for LFC football matches for EPL, FA Cup and Carling Cup vs. Arsenal, Chelsea, Man Utd, Man City, Aston Villa, Birmingham, Blackburn, Blackpool, Bolton, Everton, Fulham, Newcastle, Stoke, Sunderland, Tottenham Hotspur. West Ham, Wigan and Wolverhampton Wanderers are available.
PayPal Mastercard or debit card or other credit card is acceptable for your event ticket purchases.
If you wish to shop for LFC match tickets in French, visit Billets de Liverpool FC.
SoccerTicketShop | English Football Tickets | Liverpool FC Tickets
SoccerTicketShop acts as an intermediary between buyers and ticket sellers (defined below) to facilitate the purchase and sale of football match tickets, and as such is not directly involved in the actual ticket sale transaction between the buyers and TICKET SELLERS. All sales are final. As tickets sold through this SITE are often obtained through the secondary market and prices are determined by the individual ticket seller, the prices for tickets may be above or below face value.