Buy UEFA Champions League Final Tickets
Champions League Final tickets are available for sale.
The 2018 UCL Final match is scheduled to be hosted at the NSC Olimpiyskiy Stadium, Kiev, Ukraine on 26 May.
Here is upcoming UCL championship match schedule as below.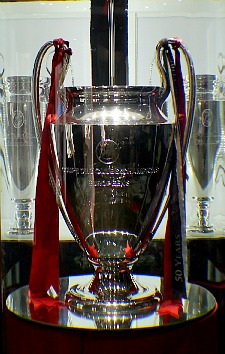 Note: There are no hidden booking fees, no service charges and no other fees but the shipping charge is sometimes free when self collection is available. Price for the UCL final match tickets is shown in either EURO or GBP.
Latest UCL Final News
Update on June 2017:
Real Madrid became the first team to win back-to-back Champions League crowns (2016, 2017) in UCL history. RMCF recorded total 12 UCL trophies.
Update on June 2015:
Barca controlled the whole match even Juve improved performance in second half, Barca led by 2-1 until the end of match, Neymer scored third goal for FCB to secure their 5th UCL glory. Congrats to FCB.
Update on May 2013:
Both FC Bayern Munich and BVB Dortmund will be playing each other for the 2013 UEFA Champions League Final @ Wembley Stadium, London on 25 May. It's German's "Der Klassiker" football match where you love to watch. Even FC Bayern is favorite, but BVB is dangerous underdog on the field. Shop now and buy tickets for 2013 UCL final!
Update on May 2012:
Chelsea won their first historic Champions League trophy by beating Bayern Munich in dramatic penalty shootout. Bayern really had tough luck!
The Guide to Champions League Final Tickets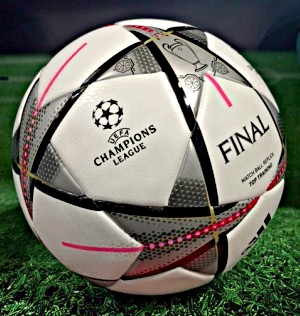 UEFA Champions League final match will show the best contenders of this European football competition, and is the podium for the best European football teams. It has been a global audience of more than one billion football fans since year 1954!
As for the fans who experienced in watching thrilling CL final match LIVE in 1999 or 2005, they would say watching CL final live match was really more than worth the money they spent!
If you want to be one of those lucky ones who can experience the tremendously exciting Champions League Final live, purchase your Champions League Final tickets here online and have the privilege to be at the stadium to watch the CL Final match by ordering now!
As for the end of 2012-2013 UCL season, Real Madrid is leading football club with 9 European Cup titles; AC Milan have recorded total 7 titles; Bayern Munich and Liverpool FC have won total 5 titles each; Ajax and FC Barcelona claimed 4 titles each; And Inter Milan / Manchester United won 3 titles each.

Shop early and secure your UCL final match tickets online with PayPal mastercard or credit card or debit card.
If you seek tickets for Champions League final match in another language, see below:

Billets | Entradas | Fussball Tickets | Biglietti | Bilijetter | Bilete | Billetter | Biletleri  
SoccerTicketShop | European Football Tickets | UCL Final Tickets
SoccerTicketShop acts as an intermediary between buyers and ticket sellers (defined below) to facilitate the purchase and sale of European football match tickets, and as such is not directly involved in the actual ticket sale transaction between the buyers and TICKET SELLERS. All sales are final. As tickets sold through this SITE are often obtained through the secondary market and prices are determined by the individual ticket seller, the prices for tickets may be above or below face value.