Spanish King's Cup:
Buy Copa del Rey Tickets
Copa del Rey tickets are available for sale. Price for the Spanish Cup tickets is shown in either EURO or GBP.
Here is upcoming Spanish King's Cup schedule (timetable) as below: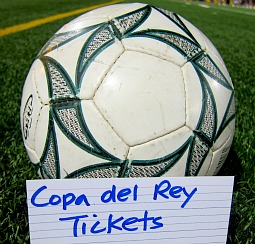 Note: There are no hidden booking fees, no service charges and no other fees but the shipping charge which is sometimes free when self collection is available.

Latest Copa del Rey News
Facts About Copa del Rey Tickets

Copa del Rey, (either Spanish Cup or King's Cup in English), is a football cup tournament in Spain every season. This competition began in 1902, all La Liga football clubs plus other soccer teams which they are member of Spanish Football Association are invited to partipicate in this tournament. Anybody would win Copa del Rey championship would qualify for UEFA Europa League competition.
FC Barcelona currently lead the most Copa del Rey titles (total 25 times). By the end of 2010-2011 football season, Real Madrid beat his archrival FC Barcelona in Copa del Rey Final.
Football tickets will be so hot if FC Barcelona plays against Real Madrid for Copa del Rey! 

Shop now and buy Copa del Rey soccer match tickets online with PayPal mastercard or debit card or credit card.
Find out about Entradas para Copa del Rey.
SoccerTicketShop | Spanish Football Tickets | Copa del Rey
SoccerTicketShop acts as an intermediary between buyers and ticket sellers (defined below) to facilitate the purchase and sale of King's Cup football match tickets, and as such is not directly involved in the actual ticket sale transaction between the buyers and TICKET SELLERS. All sales are final. As tickets sold through this SITE are often obtained through the secondary market and prices are determined by the individual ticket seller, the prices for tickets may be above or below face value.