Buy AS Roma Tickets
AS Roma tickets are available for sale. Price for the Rome soccer match tickets is shown in EURO.
Here is upcoming AS Roma football schedule as below: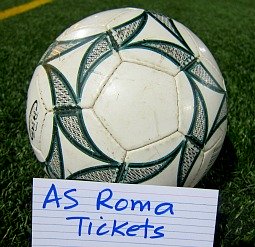 Note: There are no hidden booking fees, no service charges and no other fees but the shipping charge which is sometimes free when self collection is available.
Latest AS Roma News
Update on April 2018:
AS did unthinkable performance to beat FC Barcelona 3 - 0 and knocked them out by an away goal out of the 2017-2018 UEFA Champions League! Nobody expected Roma to make "miracle" history! That's why AS Roma at the Stadio Olympic would never be underestimated. Hats off t them.
ueUpdate on August 2017:
AS Roma had been drawn into the same group with the toughest foes like Chelsea FC and Atletico Madrid.
The Guide to AS Roma Tickets

Associazione Sportive Roma, known as AS Roma, is currently one of the Italian professional football clubs based in Rome since 1927, they are known to have profited from the otherwise unfortunate bribery scandal that marred the 2005-2006 season. Actually finishing in fifth place, they obtained a well deserved second place after disciplinary measures, resulting in their second Champions League participation in five years.
Since winning their third national title in 2001, AS Roma football club have been consistently doing well in Serie A.

AS Roma had a great run during UEFA Champions League competitions. It proved that AS Roma had been great enough to beat Juventus, AC Milan, Inter Milan and their "Rome Derby" arch-rival SS Lazio.
Another interesting thing is Roma traditionally have "Derby del Sole or Derby del Sud" football matches with SSC Napoli.

Browse match schedule online for Serie A or Coppa Italia matches vs AC Milan, Bari, Bologna, Brescia, Cagliari, Catania, Cescena, Chievo Verona, Fiorentina, Genoa, Inter Milan, Juventus, SS Lazio, Lecce, Napoli, Palermo, Parma, Sampdoria and Udinese. Time to shop for AS Roma tickets.
PayPal MasterCard or credit card or debit card is accepted for your football event ticket purchases.
Find out about biglietti ASRoma.
SoccerTicketShop | Italian Football Tickets | AS Roma
SoccerTicketShop acts as an intermediary between buyers and ticket sellers (defined below) to facilitate the purchase and sale of football match tickets in Rome, and as such is not directly involved in the actual ticket sale transaction between the buyers and TICKET SELLERS. All sales are final. As tickets sold through this SITE are often obtained through the secondary market and prices are determined by the individual ticket seller, the prices for tickets may be above or below face value.