Booking Arsenal FC Tickets

Arsenal FC tickets are available on sale.
Here is upcoming Arsenal FC match schedule (fixtures) as below: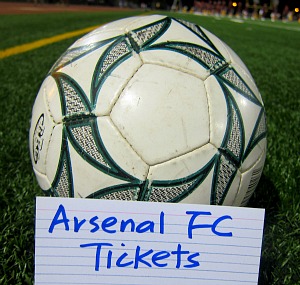 Price for the Gunnars football match tickets is shown in either GBP or EURO.

Note: There are no hidden booking fees, no service charges and no other fees but the shipping charge which is sometimes free when self collection is available.
Latest Arsenal FC Ticket News

Update on December 2012:
Arsenal FC had been drawn to face Bayern Munich at Allianz Arena and Emirates Stadium for the 2012-2013 Champions League knockout round.
Facts About Arsenal FC Tickets

Arsenal Football Club is the most talented & exciting football team with 13 English Premiership Champions and 10 FA Cups in the English football history, this football club was known as the first team that winning Barclays Premier League crown without losing a single match and finishing undefeated record by the end of 2003-2004 season.
Founded in 1886, the nickname of Arsenal football club is called "Gunners". Gunnars football match would be played at Emirates Stadium, London.
Mr. Wrenger is known as the manager who invested in youth football development, he found a lot of young guns like Theo Walcott or Van Perse, also watch for future superstar Jack Wilshere, his Gunners are strong enough to challenge Manchester United, Chelsea, Liverpool and other European football powerhouses.

Arsenal FC have a significant rivalry with cross town Tottenham Hotspur, and every football match between Tottenham Hotspur and Arsenal are called "North London derby".

Arsenal FC were the first football team from London to earn their trip to the 2005-2006 UEFA Champions League Final; unfortunately they lost to FC Barcelona. Find out about UCL tickets for Barca vs Arsenal.


Tickets for Arsenal FC for EPL, FA Cup and Carling cup football matches vs Man Utd, Chelsea, Liverpool, Man City, Aston Villa, Birmingham, Blackburn, Blackpool, Bolton, Everton, Fulham, Newcastle United, Stoke, Sunderland, Tottenham Hotspur. West Ham, Wigan and Wolverhampton Wanderers are available.
As for Arsenal FC tickets in French, visit Billets Arsenal FC.

Shop early and purchase Arsenal football tickets with PayPal MasterCard or credit card or debit card.
SoccerTicketShop | English Football Tickets | Arsenal FC
SoccerTicketShop acts as an intermediary between buyers and ticket sellers (defined below) to facilitate the purchase and sale of Gunners soccer tickets, and as such is not directly involved in the actual ticket sale transaction between the buyers and TICKET SELLERS. All sales are final. As tickets sold through this SITE are often obtained through the secondary market and prices are determined by the individual ticket seller, the prices for tickets may be above or below face value.