Buy Bundesliga Tickets

German Bundesliga tickets are available for sale.
Here is upcoming German Bundesliga schedule as below: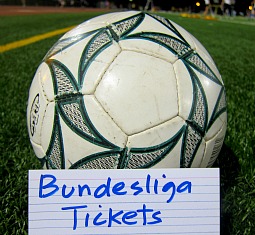 Prices for German soccer league match tickets are shown in EURO or GBP. 
Note: There are no hidden booking fees, no service charges and no other fees but the shipping charge which is sometimes free when self collection is available.
Latest Bundesliga News

The Guide to Bundesliga Tickets
Germany (Deutschland) is famous for their soccer. Their domestic league, known as the Bundesliga in its native country, is known to be one of the best leagues in the world and attracts many great foreign players. Here's some of great reasons as below:
The Bundesliga has the highest average attendance per game through the season through out Europe and possibly worldwide. 83% of the German soccer teams are in financially sound, incomes of players are capped not to run down the clubs.
The Bundesliga shows the highest average sponsorship per German professional soccer club in Europe.
The Bundesliga has also the best stadium atmosphere in Europe and possibly the world. Current professional soccer teams playing in Bundesliga are Bayer Leverkusen, Bayern Munich, Dortmund, Borussia Monchengladbach, Eintracht Frankfurt, FC Cologne, Hamburg SV, Hannover 96, Kaiserslautern, Mainz, Nurnberg, SC Freiburg, Schalke 04, St Pauli, TSG Hoffenheim, VfB Stuttgart, VfL Wolfsburg and Werder Bremen.

View German soccer league schedule. Shop early and buy Bundesliga soccer match tickets online with PayPal mastercard or other credit card or debit card.
As for soccer league tickets in another languages, find out about Fußballtickets (German), Billets (French) and/or Boletos (Spanish).
SoccerTicketShop | German Football Tickets | Bundesliga Soccer Tickets
SoccerTicketShop acts as an intermediary between buyers and ticket sellers (defined below) to facilitate the purchase and sale of German football league match tickets, and as such is not directly involved in the actual ticket sale transaction between the buyers and TICKET SELLERS. All sales are final. As tickets sold through this SITE are often obtained through the secondary market and prices are determined by the individual ticket seller, the prices for tickets may be above or below face value.