Buy English FA Cup Tickets
FA Cup Tickets are available for sale.

Here is upcoming English FA Cup match schedule (fixtures) as below: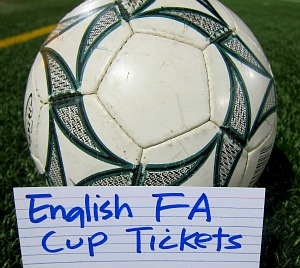 Price for the FA Cup football match tickets is shown in either GBP or EURO.
Note: They offer short side, long side and club level corner blocks available. There are no hidden booking fees, no service charges and no other fees but the shipping charge is sometimes free when self collection is available.
Latest English FA Cup News

Update on May 2013:
What a shocking result.... Wigan upsetted Man City 1-0 in FA Cup Final match! Wigan made history by claiming the first FA Cup championship. That's why FA Cup match had been unpredictable and more exciting!
Facts About English FA Cup Tickets

Wembley Stadium London UK is where the traditional FA Cup Final be hosted on May (second Saturday of May).
FA Cup is a knockout round-by-round football competition in England, and is the oldest club football tournament since 1871. FA Cup is totally different from the Premier League or regular season football league. FA Cup match would be scheduled traditionally as the last match of English football season.
The simple fact is if you lose a FA Cup match, you are out! if you win, you are going to be in next round. That's why every FA Cup match is more exciting and passionate! anything could happen on the football field and the results on FA cup football matches are sometime surprising! The most surprising moment in FA Cup history was Sunderland beat Leed United to claim the 1973 FA Cup crown when Sunderland was in second tier League and Leeds United was in first tier League.

Please do not wait until last minutes, shop early and buy FA Cup Final tickets online.
PayPal mastercard or credit card or debit card is accepted for FA Cup Final ticket purchases. 
As for FA Cup football tickets in another language: Billets FA Cup, Billetter FA Cup.
SoccerTicketShop | English Football Tickets | FA Cup

SoccerTicketShop acts as an intermediary between buyers and ticket sellers (defined below) to facilitate the purchase and sale of English football match tickets, and as such is not directly involved in the actual ticket sale transaction between the buyers and TICKET SELLERS. All sales are final. As tickets sold through this SITE are often obtained through the secondary market and prices are determined by the individual ticket seller, the prices for tickets may be above or below face value.