Buy Man City Tickets

Man City tickets are available on sale.
Here is upcoming MCFC match schedule (fixtures) as below: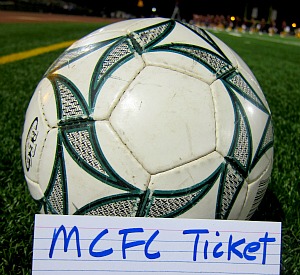 Price for the Manchester City FC tickets is shown in either GBP or EURO.
Note: There are no hidden booking fees, no service charges and no other fees but the shipping charge which is sometimes free when self collection is available.
Latest Manchester City FC News

Update on April 2016:
Man City had been drawn to play against Spanish powerhouse Real Madrid in UCL semi-final. MCFC should not be underestimated and have a shot at upsetting Real Madrid @ Etihad Stadium and Santiago Bernabeu.
Update on August 2013:
Man City had been drawn into the same group for Champions League with Bayern Munich, CSKA Moscow and Viktoria Pizen.
Update on August 2012:
Man City had been drawn into the same group for Champions League with Real Madrid, Ajax, and Boroussia Dortmund.
Update on May 2012:
Man City finally won the Barclays Premiership championship crown on the last game of 2011-2012 EPL season while they scored third goal against Swansea FC in injury time!
The Guide to Man City Tickets

Manchester City Football Club (MCFC), known as "Man City",
an English Premier League professional football club who play at the Etihad Stadium. Founded in 1880 as St. Mark's (West Gorton), they became Ardwick Association Football Club in 1887 and Manchester City in 1894.
The club's most successful period was in the late 1960s and early 1970s when they won the League Championship, the FA Cup, the League Cup and European Cup Winners' Cup under the management team of Joe Mercer and Malcolm Allison and with legendary football players including Colin Bell, Mike Summerbee and Francis Lee.
Man City began rising in 2009-2010 season. Man City qualified for the UEFA Champions League and won the FA Cup as of end of 2010-2011 football season.

Man City traditionally engages a "Manchester Derby" rivalry with Man United (MUFC), this football match tickets always had been so hot in demands!
Buy Man City football tickets online for EPL, FA Cup and Carling cup football matches vs Arsenal, Chelsea, Liverpool, Manchester United, Aston Villa, Birmingham, Blackburn, Blackpool, Bolton, Everton, Fulham, Newcastle, Norwich, QPR, Stoke, Sunderland, Swansea, Tottenham Hotspur. West Ham, Wigan and Wolverhampton Wanderers.
PayPal MasterCard or credit card or debit card is accepted for MCFC football ticket purchases.
As for MCFC tickets in another language: billets de MCFC.
SoccerTicketShop | English Football Tickets | Man City Tickets
SoccerTicketShop acts as an intermediary between buyers and ticket sellers (defined below) to facilitate the purchase and sale of MCFC soccer tickets, and as such is not directly involved in the actual ticket sale transaction between the buyers and TICKET SELLERS. All sales are final. As tickets sold through this SITE are often obtained through the secondary market and prices are determined by the individual ticket seller, the prices for tickets may be above or below face value.