Buy France Football Tickets

France football tickets are available for sale.
Here is upcoming France national soccer team schedule as below: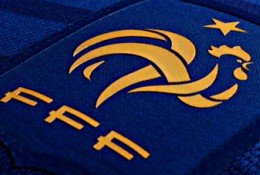 Note: There are no hidden booking fees, no service charges and no other fees but shipping charge which is sometimes free when self collection is available. Price for the France soccer match tickets is shown in either EURO or GBP.
Latest France Football News
Update December 2015: France had been drawn into the Euro 2016 Group A with Romania, Albania and Switzerland.
Update on January 2012:
France had been drawn into the same group of 2014 World Cup Qualifiers with Spain, Finland, Belarus and Georgia.
Update on December 2011:
France is drawn into the same group with England, Sweden and Ukraine.
The Guide to France Football Tickets
France is known as "Les Bleus", represents the nation of France in international football matches. The national team's traditional colors are blue, white and red, the colors of the national flag of France, known as idrapeau tricolore, and coq gaulois is the symbol of the team.
French national football players used to wear national team uniform (royal blue shirts, white short pants and red socks) on football field.
France football team are scheduled to play their home football matches at the Stade de France in Saint-Denis where they achieved the greatest glory by beating Brazil and winning the 1998 FIFA World Cup championship title.
France has won one FIFA World Cup title (1998), two UEFA European Football Championships (1984, 2000), an Olympic gold meal tournament (1984), and two FIFA Confederations Cups (2001, 2003).
France has long history of soccer rivalries with Belgium and Italy; also have other significant rivalries with Brazil, England and Germany.
France's greatest football players were Michel Platini and Zinedine Zidane.

PayPal MasterCard, credit card or debit card is accepted for France soccer ticket purchases.
If you wish to shop for France football tickets in French language, visit Billets de France de Football.
SoccerTicketShop | World Football Tickets | France Football Tickets
SoccerTicketShop acts as an intermediary between buyers and ticket sellers (defined below) to facilitate the purchase and sale of French national soccer team tickets, and as such is not directly involved in the actual ticket sale transaction between the buyers and TICKET SELLERS. All sales are final. As tickets sold through this SITE are often obtained through the secondary market and prices are determined by the individual ticket seller, the prices for tickets may be above or below face value.