Buy FC Bayern Munich Tickets

Bayern Munich tickets are available for sale. Price for the FC Bayern soccer match tickets is shown in EURO or GBP.
Here is upcoming Bayern Munich schedule as below: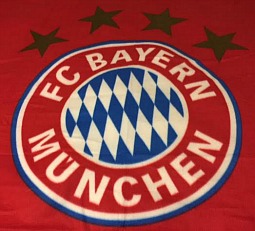 Note: There no hidden booking fees, no service charges and no other fees but the shipping charge which is sometimes free when self collection is available.
Latest FC Bayern Munich News

Update on April 2013:
Bayern has reached the CL semi-final for twice in a row after they beat Juventus. They could be drawn to face their German archrival BVD Dortmund or European powerhouses like FC Barcelona or Real Madrid.
Update on December 2012:
Bayern Munich had been drawn to face Arsenal FC for the 2012-2013 UEFA Champions League knockout round.
Update on August 2012:
Bayern Munich had been drawn into the same group for Champions League with Valencia, Lille and BATE.
Update on April 2012:
Shop now for CL Final (Bayern vs Chelsea FC) at Allianz Arena.
Facts About Bayern Munich Tickets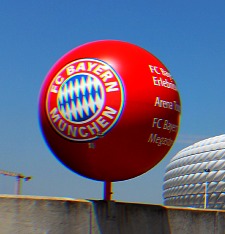 FC Bayern Munich (German: Fußball-Club Bayern München) is a German sports club based in Munich, Bavaria. It is best known as "FC Hollywood" for its professional football team, which is the most successful club in 22 Bundseiliga Champions, 6 DFP-Pokal (German Cup) titles and 4 UEFA Champions League / European Cup titles.
Found in 1900, Franz John led eleven football players to play in professional football league, until they won its first national championship in 1932. In the middle of the 1970s, the club had its period of greatest success, when the famous team led by legendary Franz Beckenbauer, Sapp Maiar and Gerd Muller won the European Cup three times in a row (1974–76).
Since the beginning of the 2005–06 season, Bayern plays its home games in the Allianz Arena. Previously the team had played for 33 years in the Olympic Stadium. They are known as playing in red and white with the team crest of the colors of Bavaria.
Bayern Munchen still maintain the most famous "Bavarian Derby" football matches with FC Nuremberg as well as "Deutschland National Derby" football matches with Borussia Dortmund. Also have another "Münchner Derby" matches with 1860 Munchen.

FC Bayern currently engages tough soccer rivalries with BVB Dortmund, Schalke 04 and Hamburg SV, also engages UCL rivalries with FC Barcelona, Real Madrid, Man Utd, Juventus, and Inter Milan.

You can see why tickets for FC Bayern Munchen matches had been one of the most popular soccer tickets in Deutschland. It had been a great feeling to watch soccer matches in Munich.
Bayern Munich tickets for Bundesliga or German Cup matches vs 1899 Hoffenheim, Bayer Levekusen 04, Eintracht Frankfurt, Hannover 96, Kaiserslautern, Koln, Mainz 05, Nurnberg, SC Freiburg, St Pauli, Stuttgart, Werder Bremen, and Wolfsburg are available.
Check out FC Bayern schedule. Shop early for this soccer match tickets online with PayPal mastercard or other credit card or debit card.
Find out about Bayern München Fußball tickets, Billets Bayern Munich, and Billetter Bayern Munchen.
SoccerTicketShop | German Football Tickets | Bayern Munchen Tickets