Italian Cup:
Buy Coppa Italia Tickets

Coppa Italia tickets are available for sale.
Here's upcoming Coppa Italia (TIM Cup) schedule as below: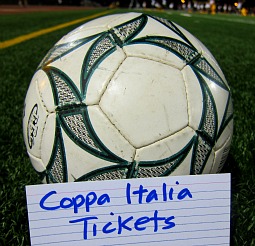 Price for the Italian Tim Cup soccer match tickets is shown in either EURO or GBP..
Note: There are no hidden booking fees, no service charges and no other fees but the shipping charge which is sometimes free when self collection is available.
Latest Italian Cup News
The Guide to Coppa Italia Tickets

Coppa Italia, (Italian Cup in English), is an annual knockout football cup tournament in Italy, Telecom Italia Mobile (TIM) is current sponsor of this football cup tournament. This competition began in 1923, all professional soccer clubs from both Serie A and Serie B are invited to partipicate in this football cup tournament.
If anybody wins Coppa Italia championship, then they could play in the UEFA Europa League competition. The results in Coppa Italia had been unpredictable for years!
As for the end of 2010-2011 Italia soccer season both AS Roma and Juventus currently lead the most Coppa Italia championships (total 9 titles), but AS Roma have appeared in Coppa Italia final championship matches.

Shop now and buy Italian Cup football match tickets online. PayPal Master Card or debit card or credit card is accepted for your event ticket purchases.
Find out about biglietti Coppa Italia.

SoccerTicketShop | Italian Football Tickets | Tim Cup Tickets
SoccerTicketShop acts as an intermediary between buyers and ticket sellers (defined below) to facilitate the purchase and sale of Italian Cup match tickets, and as such is not directly involved in the actual ticket sale transaction between the buyers and TICKET SELLERS. All sales are final. As tickets sold through this SITE are often obtained through the secondary market and prices are determined by the individual ticket seller, the prices for tickets may be above or below face value.