Buy Lyon FC Tickets

Olympique Lyon FC tickets are available for sale.
Here's upcoming Olympique Lyonnais football schedule as below: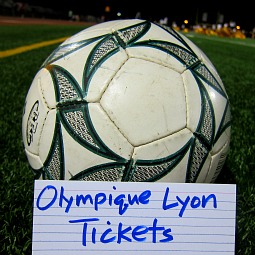 Price for the Lyon football match tickets is shown in EURO. 
Note: There are no hidden booking fees, no service charges and no other fees but the shipping charge which is sometimes free when self collection is available.
Latest Olympique Lyon News
The Guide to Lyon FC Tickets
Olympique Lyonnais is one of the most popular clubs in France. About 11% of the country's population support the club. Lyon share this number with Paris Saint-Germain and only trail Olympique de Marseille. Lyon do hold the honor of being the richest club in the country having generated an annual revenue stream of €139.6 million for the 2008–09 season based on statement of the accountants Deloitte.
The Lyon's current home match venue is Parc Olympique Lyonaals (former Stade des Lumbers and Stade de Gerland).
They traditionally engages "Derby du Rphone" football rivalry with Saint Etienne and also have bigger "Choc des Olympiques" rivalry with Olympique Marseille (OM).
Tickets for Lyon football matches to Stade de Gerland for French Ligue or Coupe de France vs Aj Auxerre, AS Monaco, AS Nancy, Bordeaux, Brest, Caen, Lens, Lille, Lorient, Marseille, Montpellier, Nice, Paris St German (PSG), Stade Rennes, St Etienne, Sochaux, Toulouse, and Valenciennes are available on sale.
PayPal MasterCard or credit card or debit card is accepted for your soccer event ticket purchases.
If you prefer to shop for Lyon tickets in French, visit billets Olympique Lyonnais.
SoccerTicketShop | French Ligue 1 | Olympique Lyon
SoccerTicketShop acts as an intermediary between buyers and ticket sellers (defined below) to facilitate the purchase and sale of Olympique Lyon football match tickets or French soccer tickets, and as such is not directly involved in the actual ticket sale transaction between the buyers and TICKET SELLERS. All sales are final. As tickets sold through this SITE are often obtained through the secondary market and prices are determined by the individual ticket seller, the prices for tickets may be above or below face value.