Buy 2018 World Cup
Football Tickets

2018 World Cup football tickets
are available on sale.
Also, tickets for
World Cup final match
at the Luzhniki Stadium, Moscow, Russia on 15 July are currently available.
Here's upcoming FWC schedule as below: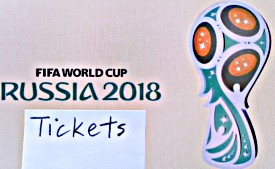 Note: Price for the World Cup football match tickets is shown in GBP or EURO or USA or AUD. There are no hidden booking fees, no service charges and no other fees but shipping charge is sometimes free when self pick-up is available.
Latest World Cup Football News
When it comes to Quarter-final and Semi-final stage, find out about match# (57, 58, 59, 60, 61, 62).
As for FWC match ticket shoppings in another languages - Spanish (Entradas para Copa Mundial), French (Billets de la Coupe du Monde), Italian (Biglietti per Coppa del Mondo).
The Guide to World Cup Football Tickets

The World Cup 2018 will be the 21st World Cup, the most prestigious and biggest World Cup soccer (football) tournament that is expected to take place between June and July 2018 in Russia.
This will be the first time the country has hosted the competition, and the first seventh European nation to host the World Cup tournament.
They have selected 11 major cities to host matches at the 2018 World Cup tourney. These are Moscow, Saint Petersburg, Kaliningrad, Kazan, Nizhny Novgorod, Samara, Volgograd, Sochi, Yekaterinburg, Sarans and Rostov. 
They announced that Moscow shall be hosting the opening match of the World Cup on 14 June and then stage the World Cup final championship match on 15 July at the Luzhniki Stadium.

Expectedly, Russia 2018 will be the most watched soccer matches events over the world for sure! About the number of million tickets for the FWC soccer match tickets will be available for sale in early 2017. 

SoccerTicketShop will provide detailed information on World Cup 2018 football stadium venues, hotels, soccer match schedules and match tickets whenever they will be available on sale.
If you are interested in World Cup soccer tickets, please leave your name and your email address using this contact form below, and you will be notified by e-mail whenever those tickets will be ready for sale. 
You can compare all travel sites with one click and find out how much you would save on travel deals (airline tickets/airfares and hotel) in order to make your trip to Moscow, Russia for 2018 World Cup. 
The most important thing is you should do research on how to get around the football venue where you have match ticket BEFORE you leave for Russia.

PayPal mastercard or credit card or debit card is accepted for World Cup football ticket purchases.
As for plane Tickets to Russia 2018 - Please see "Plane Tickets" on right column as above.
As for tickets to UEFA World Cup Qualifier matches, visit Europe World Cup Qualifiers.
SoccerTicketShop | World Football Tickets | FWC