2018 World Cup:
Buy QF Match 57 Tickets

QF Match 57 tickets
are available on sale.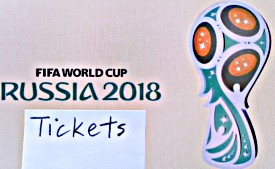 World Cup 2018 Quarter-Final Match #57 is scheduled to be hosted at the Nizhny Novgorod Stadium on 6 July.

World Cup soccer tickets are in EURO or GBP or USA or AUD. There are no hidden booking fees, no service charges and no other fees but the shipping charge which is sometimes free when self pick-up is available.

This is knockout stage, completely different than the Group stage; Winner of match #57 will be playing in next Semi-Final round. Loser of match #57 will have to pack their own gears and go home heartbroken. That's why this football match at knockout stage will be more thrilling and passionate! Even favorite cannot afford to underestimate underdog while it comes to knockout match on field!

You will be there and experience more heart-stopping moment for sure! If the quarterfinal match is tied then continue in Overtime, If this QF match is still tied again after extra 30-minute time, we'll have penalty shootout! you'll realize your ticket is worth the money you spent!

Where to Book QF Match 57 Tickets
Get your tickets online for this exciting soccer match now and cheer for your Country! Shop early and buy Quarter Final match 57 tickets online with PayPal Mastercard or credit card or debit card.
SoccerTicketShop | World Football Tickets | World Cup | Match 57
SoccerTicketShop acts as an intermediary between buyers and ticket sellers (defined below) to facilitate the purchase and sale of World Cup 2014 Quarter Final match 57 tickets, and as such is not directly involved in the actual ticket sale transaction between the buyers and TICKET SELLERS. All sales are final. As tickets sold through this SITE are often obtained through the secondary market and prices are determined by the individual ticket seller, the prices for tickets may be above or below face value.