Buy ACF Fiorentina Tickets

ACF Fiorentina tickets are available for sale.
Here is upcoming ACF Fiorentina schedule as below: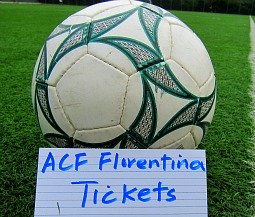 Price for the Fiorentina soccer match tickets is shown in EURO.
Note: There are no hidden booking fees, no service charges and no other fees but the shipping charge which is sometimes free when self collection is available.
Latest ACF Fiorentina News
Facts About ACF Fiorentina Tickets
AC Fiorentina (ACF), is a professional Italian football club from Florence, Tuscany. Founded in 1926, Fiorentina is also nicknamed as Viola or Gigiliati which means purple and lilies respectively. Also Florence still has been one of the most popular tourist attractions in Italy. Their home stadium is called the Stadio Artemio Franchi, which currently fill 47,000 soccer fans.

Here are major achievements of AC Fiorentina as below:
* Winner of Serie A (1956, 1969)
* Winner of Coppa Italia (1940, 1961, 1966, 1975, 1996, 2001)
* Winner of Supercoppa Italiana (1996)
* Winner of UEFA Cup Winners Cup (1961)
* Finalist of UEFA Champions League (1957)
* Finalist of UEFA Europa League (1990)
Fiorentina currently engages tough "Derby dell'Appennino" matches with Bologna FC as well as "Derby dell'Arno" matches with Empoli FC.
Tickets for AC Fiorentina matches for Serie A or Coppa Italia matches vs AC Milan, AS Roma, Bari, Bologna, Brescia, Cagliari, Catania, Cescena, Chievo Verona, Genoa, Inter Milan, Juventus, Lazio, Lecce, Napoli, Palermo, Parma, Sampdoria, Udinese are available on sale.

PayPal MasterCard or credit card or debit card is accepted for Fiorentina soccer ticket purchases.
Find out about Biglietti ACF Fiorentina.
SoccerTicketShop | Italian Football Tickets | ACF Fiorentina
SoccerTicketShop acts as an intermediary between buyers and ticket sellers (defined below) to facilitate the purchase and sale of Italia football match tickets, and as such is not directly involved in the actual ticket sale transaction between the buyers and TICKET SELLERS. All sales are final. As tickets sold through this SITE are often obtained through the secondary market and prices are determined by the individual ticket seller, the prices for tickets may be above or below face value.