Buy Womens
World Cup Soccer Tickets

World Cup hotels
Womens World Cup soccer tickets are available for sale. Price for these WWC tickets in Canada is shown in USD.
Here's upcoming FIFA Women's World Cup match schedule as below: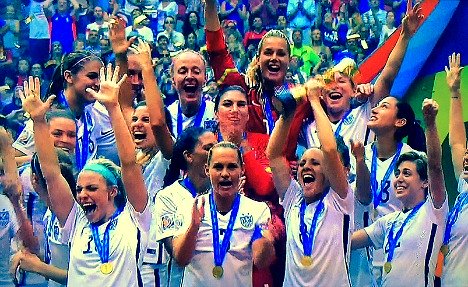 It was reported the cities of Vancouver's BC Place Stadium, Edmonton's Commonwealth Stadium, Winnipeg's Investors Group Field, Ottawa's TD Place Stadium, Montreal's Olympic Stadium, and Moncton Stadium have been chosen to host World Cup soccer tournament matches.
Update on December 2014:
GROUP A: Canada, China, New Zealand Netherlands
GROUP B: Germany, Ivory Coast, Norway, Thailand
GROUP C: Japan, Switzerland, Cameroon, Ecuador
GROUP D: USA, Australia, Sweden, Nigeria
GROUP E: Brazil, South Korea, Spain, Costa Rica
GROUP F: France, England, Colombia, Mexico
Womens World Cup Soccer Tickets

Here is a brief history of WWC tournament as below:

Winner of Women's FIFA World Cup Records:
* United States - (1991, 1999, 2015)
* Germany (Deutschland) - (2003, 2007)
* Norway - (1995)
* Japan - (2011)

PayPal MasterCard or credit card or debit card is accepted for your Womens World Cup soccer ticket purchases.
FIFA said there about 29 million women and girls playing football over the world, it is because soccer or football is naturally what both women and girls love to play and have fun on the field! If you have overweight problem or want to keep fit, just wear soccer gears and go out to play, soccer is a simple healthy sport!

Latest Women's World Cup News

---
Note: There are no hidden booking fees, no service charges and no other fees but the shipping charge which is sometimes free when self pick-up is available.
SoccerTicketShop usually provides detailed information on 2015 Women's World Cup football stadium venues, hotels, soccer match schedules and match tickets whenever they will be available on sale.
If you are interested in Women's World Cup soccer tickets to Canada, please leave your name and your email address using the contact form, and you will be notified by e-mail whenever those tickets will be ready for sale.
SoccerTicketShop | World Football Tickets | Women's World Cup
SoccerTicketShop acts as an intermediary between buyers and ticket sellers (defined below) to facilitate the purchase and sale of WWC football tickets or international soccer match tickets, and as such is not directly involved in the actual ticket sale transaction between the buyers and TICKET SELLERS. All sales are final. As tickets sold through this SITE are often obtained through the secondary market and prices are determined by the individual ticket seller, the prices for tickets may be above or below face value.