U.S. Sassuolo Calico:
Buy US Sassuolo Tickets

US Sassuolo tickets are available for sale.

Here is upcoming US Sassuolo Calico schedule as below: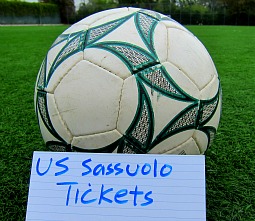 Price for the US Sassuolo soccer match tickets for Serie A, Coppa Italia (Italian Cup) and/or Europa is shown in EURO.
There are no hidden booking fees, no service charges and no other fees but the shipping charge which is sometimes free when self collection is available.

The Guide to US Sassuolo Tickets
Unione Sportiva Sassuolo Calico, one of professional Italian football clubs located in City of Reggio Emilia. Founded in 1922, They currently compete in Serie A League, and play their home football matches at the Stadio Citta del Tricolore in Reggio Emilia.

Ticket demands for US Sassuolo vs. Serie A powerhouses such as Juventus or AC Milan or Inter Milan should be so higher whenever they would come to the Stadio Citta del Tricolore!
If Milan or Juventus perform very poor at Sassuolo's own ground, Sassuolo would upset them without doubt, that's why they cannot afford to underestimate Sassuolo.

Tickets for Sassuolo football matches for Serie A or Coppa Italian vs. AC Milan, AS Roma, Bari, Bologna FC, Brescia, Cagliari, Catania, Cescena, Chievo Verona, ACF Fiorentina, Genoa, Inter Milan, Juventus, Lazio, Lecce, Palermo, Parma, and Udinese are available on sale.

Shop early and buy tickets online for US Sassuolo football matches with PayPal MasterCard, credit card or debit card.
As for U.S. Sassuolo tickets in another language - biglietti (Italian).
<script language="JavaScript" src="https://feed2js.org//feed2js.php?src=http%3A%2F%2Fwidgets.sportsevents365.com%2Fdata%2Ftickets%2Frss%2Fevents%2F%3Fq%3Dcq%2C3900d%26rpp%3D25%26domain%3Dsportsevents365.it%26a_aid%3D4adf9f5cd1383&chan=y&desc=1&targ=y&utf=y"  charset="UTF-8" type="text/javascript"></script>
<noscript>
<a href="https://feed2js.org//feed2js.php?src=http%3A%2F%2Fwidgets.sportsevents365.com%2Fdata%2Ftickets%2Frss%2Fevents%2F%3Fq%3Dcq%2C3900d%26rpp%3D25%26domain%3Dsportsevents365.it%26a_aid%3D4adf9f5cd1383&chan=y&desc=1&targ=y&utf=y&html=y">View RSS feed</a>
</noscript>
SoccerTicketShop acts as an intermediary between buyers and ticket sellers (defined below) to facilitate the purchase and sale of football match tickets in Italy, and as such is not directly involved in the actual ticket sale transaction between the buyers and TICKET SELLERS. All sales are final. As tickets sold through this SITE are often obtained through the secondary market and prices are determined by the individual ticket seller, the prices for tickets may be above or below face value.