Buy US Palermo Tickets

US Palermo tickets are available for sale.
Here's upcoming US Città di Palermo soccer schedule as below: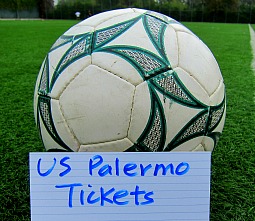 Price for the Palermo FC tickets is shown in EURO.
Note: There are no hidden booking fees, no service charges and no other fees but the shipping charge which is sometimes free when self collection is available.
Latest US Palermo Football News
The Guide to US Palermo Tickets
US Città di Palermo, Sicily is the home of Palermo Calcio, an Italian professional football club. one of the top level of Italian football.
The origin of this club dates back to 1900 under the name Anglo Panormitan Athletic and Football Club and after several transitions acquired its present name in 1987.
If you are interested in Palermo's "Derby delle due Sicilie" matches with Napoli or Palermo's "Derby di Sicilia" matches with Catania, shop now for this soccer match tickets.
Palmero FC Tickets for Serie A or Italian Cup soccer matches vs AC Milan, AS Roma, Bari, Bologna, Brescia, Cagliari, Catania, Cescena, Chievo Verona, Fiorentina, Genoa, Inter Milan, Juventus, Lazio, Lecce, Napoli, Parma, Sampdoria and Udinese are available on sale.
PayPal MasterCard or credit card or debit card is accepted for soccer event ticket purchases.
As for Palermo football tickets in Italian, visit Biglietti Palermo calcio.

SoccerTicketShop | Italian Football Tickets | US Palermo
SoccerTicketShop acts as an intermediary between buyers and ticket sellers (defined below) to facilitate the purchase and sale of Italian football match tickets, and as such is not directly involved in the actual ticket sale transaction between the buyers and TICKET SELLERS. All sales are final. As tickets sold through this SITE are often obtained through the secondary market and prices are determined by the individual ticket seller, the prices for tickets may be above or below face value.