Booking Olympiacos Soccer Tickets
Olympiacos soccer tickets are available on sale.
Here is upcoming Olympiakos FC schedule (timetable) as below: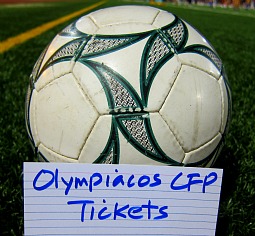 Price for the Olympiakos CFP football match tickets is shown in EURO. 
Note: There are no hidden booking fees, no service charges and no other fees but the shipping charge which is sometimes free when self collection is available.
Latest Olympiacos News
Update on August 2017:
Olympiacos had been drawn into the same group with FCB, Juventus and Sporting CP.
Update on August 2013:
Olympiacos had been drawn into the same group for Champions League with Benfica, PSG and Anderlecht.
Update on August 2012:
Olympiacos had been drawn into the same group for Champions League with Arsenal, Schalke 04 and Montpellier.
The Guide to Olympiacos Soccer Tickets
Olympiacos FC., generally known as Olympiacos or Olympiakos Piraeus or Olympiacos CFP, which had been known to stand for "Olympiacos Club of Fans of Piraeus", is one of the Greek professional football clubs, part of Olympiacos CFP, based in Piraeus.
The club's current home football stadium is Karaiskakis Stadium.
Olympiacos is the most successful club in Greek football history, having won 38 League titles, 24 Greek Cups and 4 Greek Super Cups, more titles than any other Greek team and it is one of four teams that have never been relegated from the first division.
Olympiacos' records with UCL and Europa League had been not so bad. They have reached the quarter-finals twice, in the 1998–99 UEFA Champions League and the 1992–93 European Cup Winners' Cup. Olympiacos is also one of the founding members of the European Club Association.
Olympiacos is the most popular Greek club with around two and a half million fans in Greece and was placed ninth on the list with the most paid up members in the world in 2006, having 83,000 registered members as of April 2006. They share a great and long-standing rivalry with Panathinaikos, with whom they contest in the derby of the eternal enemies.

Shop early and book Olympiacos CFP tickets online with PayPal mastercard or debit card or credit card.
SoccerTicketShop | European Football Tickets | Olympiacos Soccer Tickets
SoccerTicketShop acts as an intermediary between buyers and ticket sellers (defined below) to facilitate the purchase and sale of Olympiacos football match tickets, and as such is not directly involved in the actual ticket sale transaction between the buyers and TICKET SELLERS. All sales are final. As tickets sold through this SITE are often obtained through the secondary market and prices are determined by the individual ticket seller, the prices for tickets may be above or below face value.