Borussia Moenchengladbach Soccer Tickets

Moenchengladbach soccer tickets are available for sale.
Here's upcoming Borussia Moenchengladbach match schedule as below: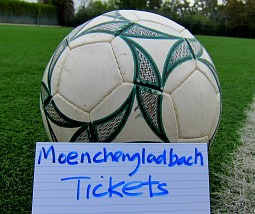 Price for the Borussia Moenchengladbach football match tickets is shown in EURO.
Note: There no hidden booking fees, no service charges and no other fees but the shipping charge which is sometimes free when self collection is available.
Latest Borussia Moenchengladbach News
The Guide to Moenchengladbach Soccer Tickets
Borussia Mönchengladbach, founded in 1900, a German professional football club based in Mönchengladbach, North Rhine-Westphalia. They currently compete in the Bundesliga and is one of the country's most well-known, best-supported, and successful teams. They have more than 40,000 members and is the sixth largest club in Germany. The official mascot of the club is the foal Jünter. "Borussia" is a Latinized form of Prussia, a popular term in naming German clubs located within the former Kingdom of Prussia.
They used to play their home football matches at the Borussia Park.
They have won 5-time Bundesliga championship titles, also was finalist in European Cup (1977).

Tickets for Moenchengladbach football matches for German Bundesliga or DFB-Pokal vs. 1899 Hoffenheim, Bayer 04 Levekusen, Bayern Munchen, Borussia Dortmund, Eintracht Frankfurt, Hamburg SV, Hannover 96, Kaiserslautern, Koln, Mainz 05, Nurnberg, SC Freiburg, Schalke 04, St Pauli, Stuttgart, Werder Bremen, and Wolfsburg are available on sale.
PayPal MasterCard or credit card or debit card is accepted for your German soccer event ticket purchases.
SoccerTicketShop | German Football Tickets | Moenchengladbach Tickets
SoccerTicketShop acts as an intermediary between buyers and ticket sellers (defined below) to facilitate the purchase and sale of Borussia Moenchengladbach soccer match tickets, and as such is not directly involved in the actual ticket sale transaction between the buyers and TICKET SELLERS. All sales are final. As tickets sold through this SITE are often obtained through the secondary market and prices are determined by the individual ticket seller, the prices for tickets may be above or below face value.