Buy European Football Championship Tickets
EUROPEAN FOOTBALL CHAMPIONSHIP TICKETS:
Euro 2016 tickets are available for sale.
Here is upcoming Euro 2016 match schedule as below: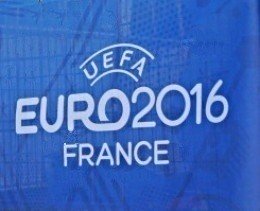 Note: Price for the Euro football match tickets is shown in either EURO or GBP. There are no hidden booking fees, no service charges and no other fees but the shipping charge which is sometimes free when self collection is available.
Latest Euro 2016 News
Update on September 2013:
Euro 2016 qualifying draw will be held in Nice, France on 23 February 2014. You will be either anxious or nervous to wait and find out!
Update on December 2011:
The four nations (Croatia, Czech, Ireland, Portugal) join defending champion Spain, co-hosts Poland and Ukraine, as well as Denmark, England, France, Germany, Greece, Italy, Netherlands, Russia and Sweden in the 16-nation field for Euro 2012 tournament, which runs from 8 June to 1 July.
---
About European Football Championship Tickets
Euro 2016 stands for "2016 UEFA European Football Championship", will be the 15th European Championship for national football teams sanctioned by UEFA. The final tournament will be hosted by France between 10 June and 10 July 2016.
The joint Poland/Ukraine bid was chosen by UEFA's Executive Committee on April 2007 in Wales. This bid defeated the other shortlisted bids from Italy and Croatia/Hungary, becoming the third successful joint bid for the European Championship, after those of Belgium/Netherlands for Euro 2000, and Austria/Switzerland for Euro 2008.
This will be the last European Championship finals in which only 16 nations will participate, with Euro 2016 being the first European Championship finals with 24 competing nations. Qualification for the final tournament will be staged between September 2010 and November 2011.
As of the end of Euro 2012, Germany is only the European Country to hold 3-time European football championship titles (1972, 1980, 1996). France already won 2 titles (1984, 2000), and Spain had 2 crowns too (2008, 2012).
The most surprising new was Greece shockingly upset Portugal in the Euro 2004 Final to claim their historic glory!
As for Euro 2016 in another languages: billets (French), Fußball-Tickets (German), biglietti (Italian), and boletos (Spain).
SoccerTicketShop > World Football Ticket > 
European Football Championship Tickets