Buy CSKA Moscow Tickets

CSKA Moscow tickets are available on sale.
Here's upcoming CSKA Moscow soccer schedule (timetable) as below: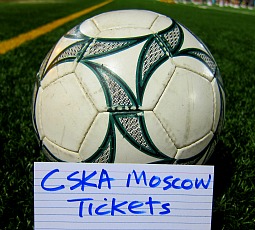 Note: Price for the CSKA soccer tickets is shown in EURO. There are no hidden booking fees, no service charges and no other fees but the shipping charge is sometimes free when self collection is available.
Latest CSKA Moscow News
Update on August 2017:
CSKA had been drawn into the same group with Benfica, Manchester United, and FC Basel.
Update on August 2013:
CSKA had been drawn into the same group for Champions League with Bayern Munich, Man City, and Viktoria Pizen.
The Guide to CSKA Moscow Tickets
PFC CSKA Moscow, stands for Central Sports Club of Army (Moscow), is a Russian professional football club based in the Russian capital city of Moscow. Officially, CSKA is a professional club and thus no longer a section of the Russian military's CSKA sports club.
The Moscow Army men's track record had been so awesome! CSKA won their 10th national title back in 2006 and they are one of the most successful clubs in the Russian football, having an extensive legacy in the Soviet football as well. CSKA won the Soviet championship seven times; the Soviet Cup five times; the Russian Cup six times; won the Russian Premier League champions titles 3 times, finishing second places five times, and the Russian Super Cup 4 times.

PayPal master card or credit card or debit card is accepted for CSKA Moscow football ticket purchases.
SoccerTicketShop | European Football Tickets | CSKA Tickets
SoccerTicketShop acts as an intermediary between buyers and ticket sellers (defined below) to facilitate the purchase and sale of European football club match tickets, and as such is not directly involved in the actual ticket sale transaction between the buyers and TICKET SELLERS. All sales are final. As tickets sold through this SITE are often obtained through the secondary market and prices are determined by the individual ticket seller, the prices for tickets may be above or below face value.