Buy Bologna FC Tickets

Bologna FC tickets are available for sale.
Here is upcoming Bologna FC schedule as below: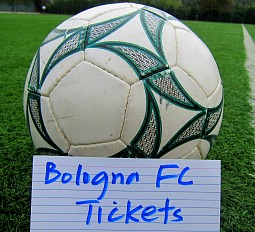 Price for the BFC football match tickets is shown in EURO.

Note: There are no hidden booking fees, no service charges and no other fees but the shipping charge which is sometimes free when self collection is available.
Latest Bologna FC News
The Guide to Bologna FC Tickets
Bologna Football Club 1909, known as Bologna (BFC), an Italian Football League club based in Bologna, Emilia-Romagna, formed in 1909. The club are nicknamed the rossoblù because of the red and blue striped shirts they wear. Red and Blue are the official colours of the town. During its history the club has won the Italian League Championship seven times. They are the sixth most successful team in the league ever.
Bologna FC home football venue is Stadio Renato Dall'Ara, which is the biggest sports building of Bologna and its name is taken from the ex-president of club Renato Dall'Ara, who died three days before the final for Serie A's Scudetto. This football stadium can fill approx. 38,279 fans.
Bologna is known to engage tough "Derby dell'Appennino" football matches with arch-rival Fiorentina (ACF), also used to play another "Derby della Via Emilia" matches with Modena.
Tickets for Bologna soccer matches for Serie A or Coppa Italia matches vs AC Milan, Bari, Brescia, Cagliari, Catania, Cescena, Chievo Verona, Fiorentina, Genoa, Inter Milan, Juventus, SS Lazio, Lecce, Napoli, Palermo, Parma, AS Roma, Sampdoria and Udinese are available on sale.
Shop now and buy Bologna football match tickets with PayPal MasterCard or other credit card or debit card.
Find out about Biglietti di calcio Bologna FC.

SoccerTicketShop | Italian Football Tickets | Bologna FC
SoocerTicketShop acts as an intermediary between buyers and ticket sellers (defined below) to facilitate the purchase and sale of Bologna soccer match tickets, and as such is not directly involved in the actual ticket sale transaction between the buyers and TICKET SELLERS. All sales are final. As tickets sold through this SITE are often obtained through the secondary market and prices are determined by the individual ticket seller, the prices for tickets may be above or below face value.